Nothing screams 'TV shows' more than quarantine. Now is the ideal moment to start binge-watching a brilliantly-plotted show. Get your favorite snack (be brave, and may the odds be ever in your favor during grocery shopping) and stop planning how to murder your messy flatmate/that family member that just gets on your nerves /your loud neighbour/your significant other with whom you thought it would be 'so cute' to go in quarantine with (told you). If you have already exhausted your list of options, run out of old DVDs, considered getting Disney+ and know every line in Friends, fear not. We have you covered. Here's a list of TV shows for every possible quarantine-mood that this season has brought upon us:
Lockdown and Chill: The Marvelous Mrs. Maisel
I can't put into words how witty, lively, lippy, and well-written Sherman-Palladino's Emmy winning Amazon Prime comedy show is. I just finished season three, and I cannot stop smiling. It offers nothing less than Gilmore Girls, the married show-runners' previous work. It features a similar combination of the author's script-writing trademarks: zippy turbo rhythm set of dialogues, a hilarious and energetic female protagonist (Rachel Brosnahan) with old-fashioned upper-class parents. Set in New York in the 1960s, the show unfolds around the life of Midge Maisel, a stereotypically perfect Upper West Side housewife, However, this perfect life begins to crumble as we meet Midge. The evening her husband leaves her, Midge downs a bottle of wine. Drunk and lost, she stumbles into a bar with an open mic stand-up comedy open mic, and races up on stage to rant about the failure of her marriage. What starts as drunk ranting becomes a comic, relatable and brilliant gig in and itself. It's the start of a thrilling stand-up comedy career where the perfect 60s housewife (think signature hairdo, matching hats and gloves and waist-cinching pastel dresses ) meets New York's landscape nightlife, Greenwich Village dive bars, and midnight crowds. The overlap is swell. Best mood-lifter in terms of quarantine: it is unexpected and original whilst having a homey feeling, humane characters, and rich 1960s decors. Go take a look!
 Essentially Working: The Good Place 
There was no bad pun intended, I swear. But that is exactly what Michael Schur's show promises. It's funny and sweet and will hopefully give you a good laugh in dark times. It also unexpectedly hits upon several debates about what is truly meant by 'being a good person'. The story follows Eleanor Shellstrop (Kristen Bell) into her journey into a non-denominational afterlife called 'The Good Place' and her attempt at concealing the fact that she was mistakenly sent there. Behind a seemingly cartoonish setup, the plot does reach a certain point of eye-opening moral truths by casting a focus on several chronically selfish characters' evolution, yet it is done through light-hearted and comical scenes – that's the shows' genius. Not the worst thing to watch in terms of crisis, plus Kristen's Bell performance in the last episodes is particularly touching and sincerely deserves some of your time in quarantine. It's a good watch, trust me.
Stop It's Not Fun Anymore: Self Made (Miniseries) 
I was so excited to watch this at first, convinced that this would be the ideal family TV series to take the place of Downton Abbey. So I placed all of my hopes upon this new Netflix four-part TV series, starring the iconic Octavia Spencer and inspired by Madam CJ Walker's biography, the first self-made African American female millionaire. The show retraces Walker's madly ambitious entrepreneurial journey: she created a beauty empire through developing a line of hair care products for black women only a few years after Abraham Lincoln's Emancipation Proclamation. Walker's achievements, revolutionizing 19th-century ideals for black female business endeavors in a systemically misogynistic and racist 1890s society, should have been seen on screens years ago. Within each episode, Spencer's performance gains in authenticity and sincerity as she embodies Walker's meteoric rise, her battles, and fearless aspiration. However, that's the only good thing about the series. It lacks momentum, depth, and a well-constructed plot. It is undeniably accessible to all audiences, but this is at the expense of oversimplification. The show lacks all the acuity and profundity found in other cinematographic historical works covering this period. It is therefore worth seeing, for Spencer's performance and the show's tribute to an often unseen historical figure but would have benefitted from a more thought-through narrative line. It remains an uplifting and much-needed watch in quarantine times.
If I Weren't Locked Down I'd Be Rioting: Unorthodox 
Unorthodox is a four-part mini-series, based on Deborah Feldman's best-selling memoirs, The Scandalous Rejection of My Hasidic Roots. The show tells the story of a 19 year old woman named Etsy, who escapes from a closed-off ultra-religious Jewish Hasidic community settled in Brooklyn. Along her journey into an unknown outside world, the audience is plunged into a series of flashbacks. A woman's perspective is presented against the backdrop of a repressive orthodox society. Doing so, the show not only successfully encapsulates the realities of living in an orthodox community but also depicts a woman's battle, going beyond religious taboos and learning to think for herself, ultimately challenging what she has always been taught and told. Playing with different cinematographic genres, settled between documentary and drama, Unorthodox creates a poignant emotional tapestry whilst recomposing daily scenes of Hasidic traditions with incredible authenticity.
WHO Needs Hair Anyway?: The End of the Fucking World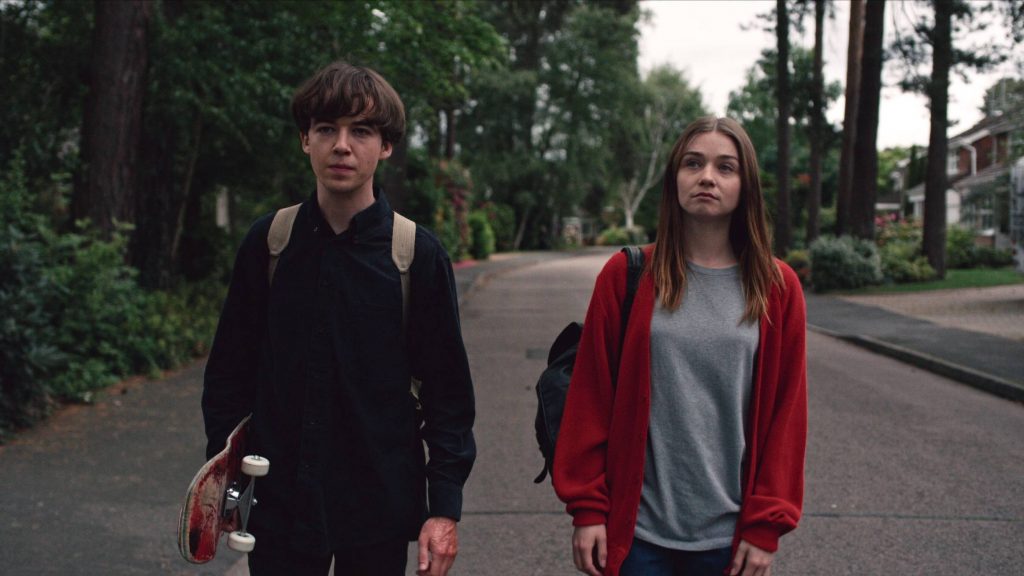 I still have goosebumps. It was thrilling, vibrant, had an air of suspense but never fell into clichés. It was unique. A darkly comic series as it was never done before. If you did not have the time to watch the second season last term when it was released: Run! Do it now! I implore you. It plunges you into a whole new abstract and quite odd setting (bit 70s, bit 90s) but creates a strangely dark and timeless atmosphere from off-the-road dinners, shabby routes, and deep forests, which make it easy to get completely absorbed in it. (Basically, the perfect getaway show for quarantine?) In very few words, the script also manages to reach a perfect equilibrium, giving just the right amount of space for Alyssa (Jessica Barden) and James (Alex Lawther) to create a fresh form of chemistry (very teenagey, a tad awkward, but it really works). The show's tension and violence are perfectly out-balanced by its use of dark humour. It also brilliantly plays with different genres whilst throwing awkward British characters in a very American-like TV show setting (teenagers on the run, road trips, white male killers) which is a great fit for its international audience. If you're on the lookout for a Netflix series to binge-watch in one go, I would strongly recommend this one. (Otherwise, Money Heist remains the other, very popular, option)