The Review staff writers came together to decide this year's top ten films and to highlight some of 2018's biggest disappointments.
10) Three Billboards Outside Ebbing, Missouri (wri-dir. Martin McDonagh)
I'd like to reflect on one scene, by far my favourite of the year. I will call it 'the orange juice' scene (sob). Police officer Dixon (Sam Rockwell), an abuser of power and a racist, finds himself badly hurt in hospital. It just so happens that he shares the ward with one of his victims, Welby (Landry Jones) – whom he threw out a window. Dixon's apology is initially met with confusion – Welby doesn't recognise him; but eventually, Welby realises, and turns his back, and rummages around in his cupboard. Suddenly, tension arises – will Welby seek vengeance? And how? We all know violence begets violence, especially in a Martin McDonagh film… but no. Orange juice is offered – complete with straw – and conciliation follows. Hope for humanity is given – and tears were shed.
-Min-Kyoo Kim
9) TIE: Black Panther (dir. Ryan Coogler, wri. Coogler & Joe Robert Cole)
Labelling Marvel's superhero epic as a cultural phenomenon is an understatement. It broke box office records, is a serious Oscars contender and has seemingly changed cinema for years to come. Chadwick Boseman is mesmerising as the multidimensional leader of Wakanda, while Michael B. Jordan sets a new standard for villains in modern day cinema, acting both intimidatingly yet remaining relatable. He is a perfect mirror against the motivations and troubles experienced by T'Challa, adding yet another dimension to the many dimensions Ryan Coogler uses to elevate the material. It is fun and action-packed. As a minority myself, it was incredibly inspirational to see a big-budget superhero movie of this magnitude depicted with such beauty and honesty on the silver screen.
-Rajan Chander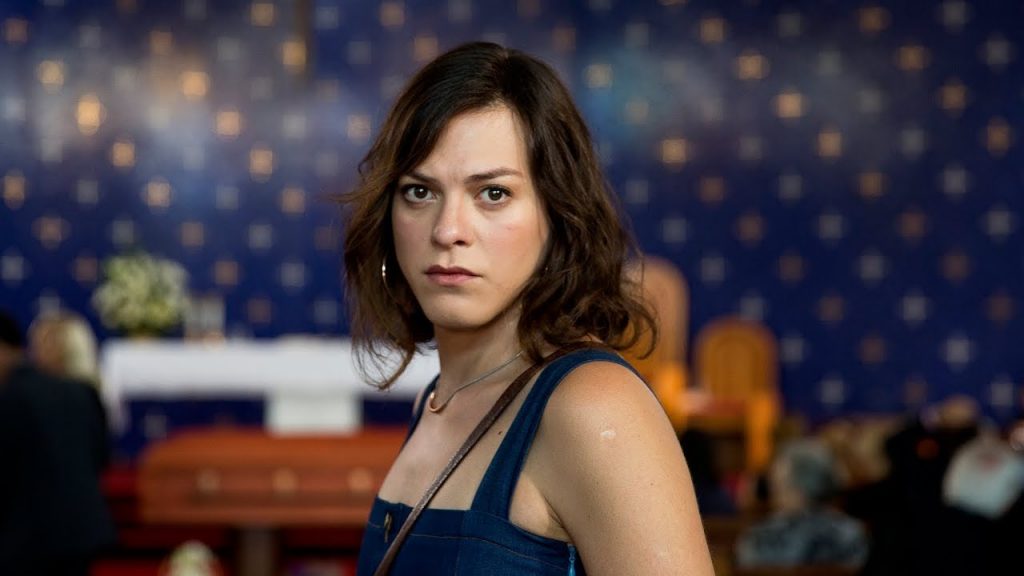 9) TIE: A Fantastic Woman (dir. Sebastián Lelio, wri. Lelio & Gonzalo Maza)
Primarily concerning itself with grief, Sebastián Lelio's Oscar-winning film makes bold artistic choices to blur the lines between reality and fantasy when someone is at their most vulnerable. Daniela Vega's performance as Marina, a transgender woman shunned by the family of her recently deceased partner, exudes the highest level of empathy. Her strength in the face of antagonism from all sides is inspiring. Fanciful sequences and an imaginative score bring the whole film together. The international profile of A Fantastic Woman helped to elevate the discussion of transgender rights in Chile: a fitting legacy for a beautiful film.
-Rahul Patel
8) BlacKkKlansman (dir. Spike Lee, wri. Lee, David Rabinowitz, Charlie Wachtel, Kevin Willmott)
By way of this darkly satirical, true story-based tale of an idealistic black police officer infiltrating the KKK, Spike Lee delivers one of his most enjoyable and powerful pieces of work to date. Performances are strong throughout, particularly from leads John David Washington and Adam Driver; a strong mention also goes out to Paul Walter Hauser, who seems to be gaining a penchant for playing hilariously dim-witted yet sinister antagonists. The film is at times humorous and witty, due to the slick script and charismatic delivery, and at others harrowing and unsettling. It is the combination of both that result in a plot that is as entertaining to watch unfold as it is hard hitting.
-Paul McCormack
7) Widows (dir. Steve McQueen, wri. McQueen, Gillian Flynn & Lynda La Plante)
Steve McQueen brings his unique eye for direction and alternative views on society to mainstream cinema in this star-studded heist thriller. Though on the surface it feels overstuffed, McQueen successfully balances every character and their individual traits, letting each actor shine in their roles. Viola Davis is phenomenal as a grieving widow who is forced into an unexpected and sudden fight for her life. Her chemistry with the equally impressive Elizabeth Debicki is a sight to see as both characters are so different to each other. However, Daniel Kaluuya strikes you every time he is on screen. He is enticing, menacing and unforgiving, showing just how talented the Get Out actor is and how bright his future will be. It is smart, creative and important. Films like these are more needed now than ever.
-Rajan Chander
6) A Star Is Born (dir. Bradley Cooper, wri. Cooper, Will Fetters, Eric Roth, William A. Wellman, Robert Carson)
Yes, this is a remake of a remake of a remake. Yet this narrative of a shifting power dynamic between a troubled male star and a fame-destined woman on the rise seemingly has plenty of life left in it. The songs are well written and undeniably catchy. Lady Gaga proves a worthy successor to the legacy left by her female lead predecessors. She delivers an impassioned and sensitive performance that is matched only by her co-lead Bradley Cooper (whose singing ability is surprisingly great). Together they form an on-screen relationship that is incredibly natural and believable, making the events that unfold all the more devastating.
-Paul McCormack
5) First Reformed (wri-dir. Paul Schrader)
Paul Schrader's perplexing transcendental mystery drama is easily the most provocative movie of the year. Its star, Ethan Hawke, plays entirely against type, as a New England priest experiencing an existential crisis. He'd be a shoo-in for Best Actor if he was at some Hollywood roundtable rather than Juliette Binoche's Instagram feed. (He's usually playing the ukulele.) In all seriousness, First Reformed is an intense, near-revolutionary film of immense proportion. Amanda Seyfried and Cedric the Entertainer put in memorably chilling supporting performances. But it's not going to win any awards – someone has to do something.
-Adam Solomons
4) Phantom Thread (wri-dir. Paul Thomas Anderson)
Paul Thomas Anderson's tricky fairy tale is a story of how Reynolds Woodcock's (Daniel Day-Lewis) gargantuan ego is brought down to size by an unlikely and unrelenting lover, Alma. Anderson's sharp screenplay is adeptly portrayed by Daniel Day-Lewis, Vicky Krieps and Lesley Manville. Alongside Woodcock's frustrating habits, Manville's performance as his cold sister is a fascinating game to watch. Dark turns and the dynamic between main characters Reynolds and Alma set this film apart. Phantom Thread leaves a considerable legacy: it drew Hollywood's attention towards the remarkable Vicky Krieps, Reynolds was Daniel Day-Lewis' final role, and it features cinema's finest asparagus-related scene. Above all, it has been immortalised by Twitter's film community as prime meme material.
-Rahul Patel
3) Cold War (dir. Paweł Pawlikowski, wri. Pawlikowski, Janusz Glowacki, Piotr Borkowski)
Set eponymously in the epoch of a divided Europe, Cold War is a sultry romance that, at times, borders on an ethnographic sensibility, such is the avowed rejection of the melodrama that often plagues historical romances. We follow the precocious Zula (Joanna Kulig) as her singing talent leads to her discovery by director Wiktor (Tomasz Kot), who oozes charisma through every pore (think a Polish Ryan Gosling). As they traverse the continent in a troupe as propagandistic exports of the Polish state, we see that they are fated to be and yet so incommensurable with the other. Meanwhile, the geopolitical machinations of the era incarcerate both their individual and shared hopes and dreams, leading, eventually, to a tragic climax that will haunt you for a long time to come.
-Min-Kyoo Kim
2) The Shape of Water (dir. Guillermo del Toro, wri. del Toro & Vanessa Taylor)
Guillermo Del Toro earned his long-deserved Oscar when he crafted this magnificent and emotional feature. It feels mystical yet grounded in its approach to tell a timeless, strangely inspirational story. Anchored by a powerful performance by Sally Hawkins, the film successfully manages to be a Cold War-era thriller dealing with race relations. It is so incredibly layered, covering vital issues in question today such as sexuality, disability and even domestic roles of men and women. But at the core of the movie lies a mesmerising, romantic tale showcasing the importance of love and how it can transcend all physical boundaries.
-Rajan Chander
1) Lady Bird (wri-dir. Greta Gerwig)
Greta Gerwig's outstanding solo directorial debut is a near perfect encapsulation of the trials and tribulations of late adolescence. It is a deeply honest reflection of growing up unsure of who you are and who you want to be. The narrative tackles issues ranging from maternal bonds and first loves to dealing with a changing socio-economic landscape, resulting in a film that transcends coming of age clichés and resonates deeply. Saoirse Ronan's portrayal of Christine 'Ladybird' McPherson is astute, empathetic and nuanced. Her relationship with her fierce, protective mother and her depressed father (Laurie Metcalf and Tracy Letts, respectively) is stunningly natural. Ultimately, Lady Bird has the ability to elicit laughs, smiles and tears – it is a thoroughly enjoyable watch.
-Paul McCormack
2018's Stinkers
Peterloo is so bad, you leave the cinema doubting whether any of its cast, crew or production company read it before they made the thing. The script was probably a Game of Thrones-level secret. Except shit.
-Adam Solomons
Fantastic Beasts sucks. No, it's not because I'm some Harry Potter-hating sadist; it's because I grew up with Harry Potter that I don't ever again want to see this Capitalist exercise of "let's just throw magical shit at the audience and hope it sticks." Honestly, I've seen better narrative arcs in porn. It's fucking criminal.
-Min-Kyoo Kim
Truth or Dare is not a horror movie. It is an unintentional comedy filled with an overabundance of jump scares and a bunch of teenagers doing grinch-like smiles. Honestly, the scariest thing about the movie is that they are making a sequel.
-Rajan Chander
They say that comedy movies are the hardest movies to make. But in Father Figures, we have a comedy where the filmmakers didn't even try to make it funny. This, in combination with a phenomenal cast and premise, amounts to horrific results. A Bronx Tale said it best: "The saddest thing in life is wasted talent".
-Rajan Chander