Picture this: you've woken up far too early on the Saturday after Welcome Week, feel a bit under the weather after five days and nights of partying courtesy of the LSESU RAG Band, and now somehow find yourself at Waterloo Station, excited and ready to embark on your first trek to Berrylands. Soon that excitement turns into impatience, leading you to ask — much like you might have done on a family holiday as a 10-year-old—"are we there yet?"
In one form or another, thousands of LSE students have lived through this experience over the past 100 years. While not all LSE sports teams play at Berrylands, it has been LSE's spiritual home since the acquisition of the sports ground exactly 100 years ago, in 1921, with the university hosting its first Sports Day in 1922. Needless to say, a lot has changed in that time. More recently, Ramz, the artist behind the single "Barking", played for the LSE 2s of the Men's Football Club, awestruck Fulham F.C. academy players watching in amazement.
Unfortunately some things, however, never change: according to LSE archivist Sue Donnelly who notes that in 1924, the first XI football team was the first LSE team to reach an inter-collegiate final, "losing 2-1 to UCL". Those of you who read the first and second articles of this trilogy know this wasn't the last time LSE suffered at the hands of UCL.
The real question, however, is this: is Berrylands our bastion? While LSE teams have not gone unbeaten at home, Berrylands has certainly been a stronghold for success. In fact, LSE teams have won over 55% of their games at home compared with only 42% away*. Indeed all sports, but fencing, volleyball, and ultimate Frisbee have a greater win percentage at home than away. With such a strong home record, one would expect the biggest victories to have occurred on the holy ground at Berrylands, right? Wrong. Four of the top five wins, as calculated by the difference in scores, have been away from home.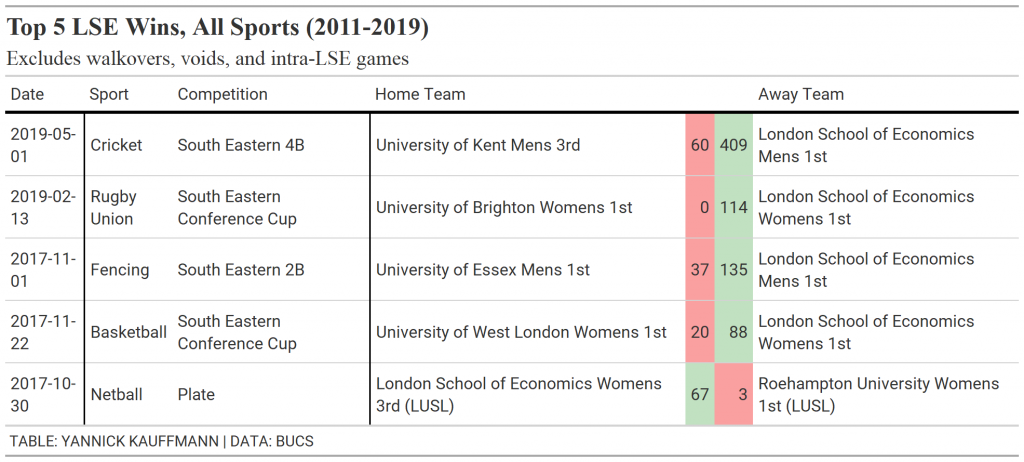 In other times, such achievements would have been celebrated appropriately. Sports is crucial in providing a strong sense of community at LSE, and going through an academic year with almost no sports events merits a celebration of it. In 1922, then-President Sir William Beveridge refereed the first Sports Day. Perhaps it would be fitting to reinstate this tradition on its 100th anniversary, helping to make students feel #partofLSE? What do you think, Baroness Minouche Shafik? Fancy reffing?
* Data sourced from BUCS Digital Project Manager Mark Handley via email (June 2020)